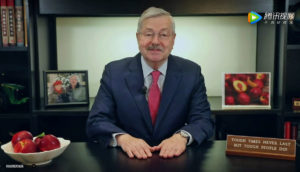 U.S. Ambassador to the People's Republic of China Terry Branstad will retire from his position as U.S. envoy and depart Beijing in early October.
During his tenure as ambassador, which began in June 2017, the former Iowa governor traveled to 26 provinces and autonomous regions in China, and would have visited all of them if COVID-19 had not limited his domestic travel. "Getting to know the Chinese people, meeting them in their homes and hearing their personal stories, has been one of the great privileges of this job," said Branstad.
Secretary of State Pompeo tweeted that, "Ambassador Branstad's contribution to the rebalancing of U.S.-China relations will have lasting, positive effects on U.S. foreign policy in the Asia-Pacific for decades to come."
President Trump mentioned Branstad would be coming home during a phone call to Sen. Joni Ernst that was shared on Twitter over the weekend.
The president gave a shout out Terry Branstad's son Eric, who is senior adviser for the Trump 2020 re-election campaign in Iowa. "Eric Branstad's fantastic and you know Eric's father is coming home from China because he wants to campaign," said Trump.
Pres. Trump call to Sen. Ernst
(1:05)