President Donald Trump Tuesday announced details of the Coronavirus Food Assistance Program (CFAP), which will provide up to $16 billion in direct payments to deliver relief to America's farmers and ranchers impacted by the coronavirus pandemic.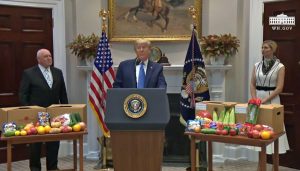 "These payments will compensate farmers for losses related to the global pandemic caused by China," said President Trump, who was joined making the announcement by Agriculture Secretary Sonny Perdue and Senior Advisor Ivanka Trump.
In addition to this direct support to farmers and ranchers, USDA's Farmers to Families Food Box program is partnering with regional and local distributors, whose work forces have been significantly impacted by the closure of many restaurants, hotels, and other food service entities, to purchase $3 billion in fresh produce, dairy, and meat and deliver boxes to Americans in need.
Beginning May 26, the U.S. Department of Agriculture (USDA), through the Farm Service Agency (FSA), will be accepting applications from agricultural producers who have suffered losses.
Payments will go directly to farmers who have suffered a five percent or greater price loss and who are facing significant marketing costs due to the coronavirus. Eligible commodities include cattle, hog, dairy, specialty crops and row crops. Payments will be limited to $250,000 per person.
American Farm Bureau Federation President Zippy Duvall was at the White House for the announcement. "This aid can't arrive soon enough as many farmers file for bankruptcy, facing unprecedented losses. We are grateful to the Administration and to Congress for sending aid to America's farmers and ranchers reeling from the breakdown in distribution channels resulting from COVID-19. Although supply is strong, the shutdown of restaurants and school cafeterias caused the markets for meat, dairy and produce to shrink drastically almost overnight."
National Cattlemen's Beef Association (NCBA) President Marty Smith also attended the White House ceremony.
"America's cattle producers have been hit very hard economically by this pandemic, so we're pleased that this relief is one step closer to reaching the producers who need it," Smith said. "Still, this is just one step and much more needs to be done to address the needs facing family cow-calf producers and stockers in the CFAP details that were released today. We will continue to push Capitol Hill for additional resources for cow-calf producers, backgrounders, and all other segments of the industry who may not sufficiently benefit from the program in its current form."
Listen to the full announcement and press conference here:
Pres. Trump announces COVID-19 aid for agriculture