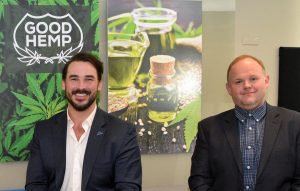 The hemp industry is in dire need of good genetics and a weeding out of bad actors in the seed supply business, according to two hemp farmers who helped Arcadia Biosciences announce the launch of GoodHemp in Chicago last week.
Chris Adams (pictured left) of Adams Family Farm in North Dakota and Weston Walker (right) of Gold Dust Farm in Oregon shared their experiences growing hemp and the need for good genetics and reliable seed suppliers during a panel discussion. Both are excited about the future as pioneers in the "wild west" of this new agricultural commodity.
Walker is new to hemp farming and just planted his first crop this year, while Adams has been growing hemp for five years on his fourth generation family farm. You can listen to interviews with each of them and watch several of the questions/answers during their presentation at the launch event.
GoodHemp interview with North Dakota hemp farmer Chris Adams
GoodHemp interview with Oregon hemp farmer Weston Walker
Arcadia Biosciences GoodHemp Launch photos