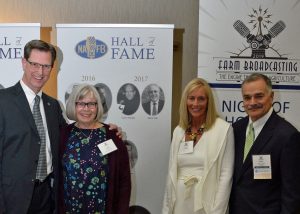 Two more names were added to the NAFB Hall of Farm last week at the National Association of Farm Broadcasting (NAFB) convention.
Both past presidents of NAFB, the new Hall of Famers are Max Armstrong, Farm Progress/WGN Radio, and Tom Steever, Brownfield Ag News. They were recognized during the Thursday night banquet. Russ Parker, with J.L. Farmakis, received the 2019 Dix Harper Meritorious Service Award.
Also presented Thursday were the Plambeck Awards For Creative Excellence –
Single Entry Winner – Y-Tex Corporation, Engle Creative Solutions
Series Entry Winner – Cenex (CHS), Colle McVoy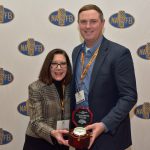 The 2019 Awards Luncheon on Friday recognized the Farm Broadcaster of the Year and Horizon Awards sponsored by Syngenta, as well as NAFB News Service winners.
Clinton Griffiths, anchor and executive producer for AgDay Television, was named Farm Broadcaster of the Year. Shannon Yokley, Digital Products Coordinator at Brownfield Ag News, was selected as the 2019 Horizon Award winner.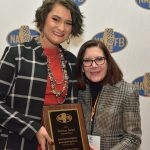 2019 NAFB News Service Awards, sponsored by John Deere, recognized Max Armstrong, for Excellence in Ag Reporting, and Editor's Choice for Exceptional Merit, Brian Winnekins, WRND Radio.
2019 NAFB Broadcast Contest Awards, sponsored by Mahindra Ag North America, recognized Rob Winters, WOWO Radio, with first place in both Marketcast and Newscast Awards, while AgDay TV was first in both categories for video. Sarah Heinrich, KFRY/KBMR Radio won first place in the Feature/Commentary Award category, U.S. Farm Report was first in Video Feature Awards, and Christina Loren, RFD-TV, came in first place for Video Interview Awards.