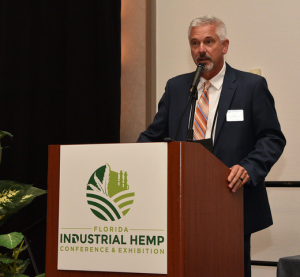 Hemp research is moving quickly in order to support industrial production of the crop, according to Jerry Fankhauser, Industrial Hemp Program Logistics Coordinator, Florida Agricultural Experiment Station, UF-IFAS.
"We're moving as quickly as we can into a commercial environment with less than a year's worth of research data. That's a tall order," said Fankhauser, who spoke at the inaugural Florida Hemp Conference in Orlando.
He said more than 20 faculty members at UF-IFAS are now engaged in some level of industrial hemp research, trying to understand what genetics might be adapted for growers in the state of Florida and what production systems they might use to grow different cultivars of hemp. They're also working to understand the invasive potential of the crop and looking at possible pesticides that could eventually be registered for use with industrial hemp. Fankhauser said the USDA's Interim Final Rule moves the process along even further.
"It means that now it really looks like an agricultural commodity. It's going to be a permitted activity in our fields and greenhouses and growth rooms across Florida, and growers are going to need to understand what the rules are, what the limitations are," he said.
The pilot project he is working on is just one aspect of research that is happening. Fankhauser said further collaboration as interest in industrial hemp production continues to grow.
Listen to Chuck's interview with Jerry here: Interview with Jerry Fankhauser, UF-IFAS
2019 Inaugural Florida Industrial Hemp Conference Photo Album