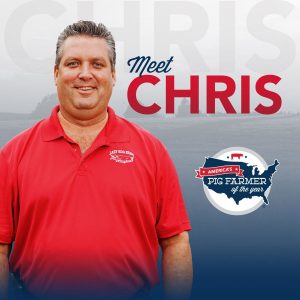 America's Pig Farmer of the Year for 2019-2020 is Chris Hoffman from McAlisterville, Pennsylvania. The award recognizes the pig farmers who exemplify industry leadership, a demonstrated focus in raising pigs following the We Care ethical principles and a commitment to connecting consumers with the farmers who raise the pork they consume.
Hoffman was named America's Pig Farmer of the Year after an on-farm audit of animal health, safety and management practices, a series of personal interviews and an online vote. Since being named to the position, Hoffman said he's excited to lead discussions with consumers and food retailers in order to help promote pig farming and demonstrate farmers' commitment to always doing the right thing for their animals, the environment and the families who consume their product.
Though he originally aspired to work in law enforcement, Hoffman found himself in the business of raising pigs and discovered it to be his ideal career. He's faced challenges unique to being a first-generation pig farmer, but with a progressive yet realistic philosophy, he's been able to gradually grow and evolve his Lazy Hog Farm to integrate the next generation and secure a bright future.
Learn more about Hoffman and the America's Pig Farmer of the Year Award at americaspigfarmer.com.