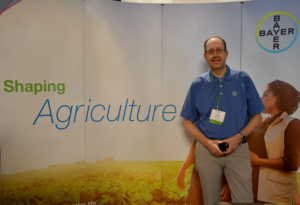 Sustainability and transparency are more than just buzz words to Bayer, according to Utz Klages, who works in communications out of the company's Crop Science headquarters in Monheim, Germany.
"For us, it's important to fill sustainability with life, with action, with measures and also with some core activity," said Klages. "We are a company with more than 150 years history. It's in our DNA. And now we're trying to make agriculture more sustainable. So that's why we are investing not only heavily in research and development, in order to provide farmers worldwide with new tools, new technologies, in order to make agriculture more sustainable."
Klages said those efforts include reducing the CO2 footprint, using less water, implementing new spray technologies and helping farmers to obtain more data-driven tools. Bayer is working on an initiative to reduce agriculture inputs by 30 percent until 2030, and Klages said that includes not only farms, but also production plants worldwide. He said transparency is also important throughout this process as consumers in many areas currently exhibit a lack of trust in science, in politics and in corporate business. Klages was at the 2019 Ag Media Summit in Minneapolis.
Listen to Chuck's interview with Utz here: Interview with Utz Klages, Bayer