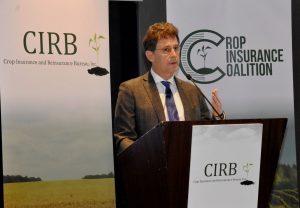 The latest crop insurance industry outlook shows a stable picture right now, according to a presentation at last week's Crop Insurance and Reinsurance Bureau (CIRB) annual meeting in San Diego.
"The crop insurance industry should be feeling pretty good about its current state, and stability is how we'd describe it," said Steve Webersen, Head of Insurance Research at Conning, Inc. "The industry has strung together several years of good, solid profitability, the premium base appears quite stable and you've got operating efficiency that seems to be running quite high. Finally you've got very strong support from your reinsurers and from the new farm bill."
Listen to Webersen's comments on the state of the industry here:
CIRB2019 Steve Webersen, Conning Inc.
2019 Crop Insurance and Reinsurance Annual Meeting photo album