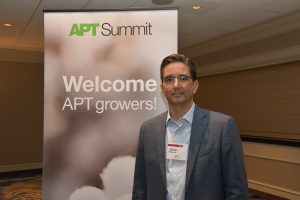 Growers at the 2019 BASF APT (Agronomic Performance Trials) Summit welcomed an opportunity to hear about trial results from across their region, and not just the ones on their individual farms.
BASF Regional Agronomist Dr. Craig Bednarz presented in one of the regional breakout sessions with growers.
"With each of the growers that we work with every year, we share the data with them from their individual farms," said Bednarz. "So, this is an opportunity for us to share more of the data with them for the entire area. For instance, in my area this past year I worked with 32 growers, so this is an opportunity to share all of that data with all the growers in the southern High Plains region."
Bednarz said this past year they tested four experimental varieties. FiberMax 2398GLTP was one of the top performing varieties across his area. Another variety that performed well was FiberMax 1621GL. Bednarz said the regional sessions also provide an opportunity to learn ways to be more efficient while doing trials on the farm.
Listen to Chuck's interview with Craig here: Interview with Dr. Craig Bednarz, BASF