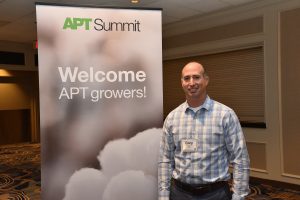 BASF cotton breeders are excited about launching new product innovations that will continue to help growers.
Dr. Cory Mills works out of a state of the art facility in Lubbock, Texas, where his breeding group uses molecular tools to help select traits farmers need to grow better cotton crops. Mills, who was at the 2019 BASF APT Summit, spoke highly of the people he works with and the location where the trials happen, but he said the most important research happens on the farm.
"The growers are key to our success as a breeding group," said Mills. "We actually go out on their farm and lease the ground to do all of the testing, all the screening. The farmers have all of the tools and the land, and we are able to go on and take basically their best land to screen for these traits. So, we appreciate their help. We wouldn't be able to bring a product to the market without their help."
Mills said the breeding group screen soil types in different areas to gain information about disease resistance as they select both native and genetically modified traits for development into new cotton varieties.
Listen to Chuck's interview with Dr. Cory Mills here: Interview with Dr. Cory Mills, BASF