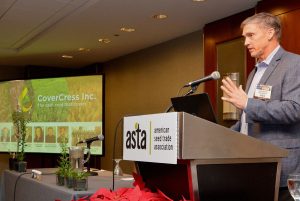 CoverCress Inc. is developing a new crop, called CoverCress®, based on the native plant pennycress.
The company, formerly named Arvegenix Inc., says CoverCress is a new winter oilseed cash crop designed to provide winter and early spring soil cover between corn harvest and soybean planting, while producing an oilseed crop. CoverCress oil and protein meal are similar to that of canola.
"As the company has advanced from its 2013 beginnings, when it was focused on native pennycress, to now develop a brand new crop producing grain quality like canola, it was time to update the name to reflect this change," said CoverCress CEO Jerry Steiner.
CoverCress held a press event at last week's ASTA CSS and Seed Expo to introduce the new company name and the potential of the new crop, expected to go commercial next year.
ASTACSS18 CoverCress press conference
ASTACSS18 Interview with CoverCress CEO Jerry Steiner