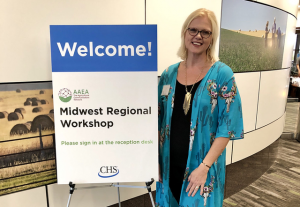 Christy Couch Lee of CeeLee Communications has begun her service as president of AAEA, The Agricultural Communicators Network.
"It's definitely an honor. There are large shoes to fill, for sure. I am just going to work my hardest for the membership to preserve what has been done and hopefully help to help the association grow," said Lee, who lives in East Central Illinois.
She said membership restructuring is a continuing project for the membership committee, with the goal of helping the association continue to meet the constantly evolving needs of members while preserving the history and legacy of the association. AAEA members have received an email survey to complete to help the association to know where they will fit within the new structure. Along with membership changes, finances are also a priority for Lee.
"My main goal for the year is to get our association back into a stronger financial standing. We're looking at ways that we can cut back on expenses and we're going to look at ways we can generate some new revenue, hopefully," she said.
Lee welcomed feedback and encouraged people to get involved in the association as there are lots of opportunities to participate and serve.
Listen to Chuck's interview with Christy here: Interview with Christy Couch Lee, CeeLee Communications