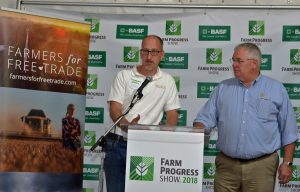 Last week was a big one for trade news impacting agriculture, so Farmers for Free Trade (FFT) Executive Director Brian Kuehl and National Corn Growers Association (NCGA) president Kevin Skunes had a lot to talk about during a press conference at Farm Progress Show.
Regarding news that U.S. and Mexico had reached a preliminary NAFTA deal, Kuehl expressed some concerns. "A deal with Mexico is not a renegotiated NAFTA," he said. "It will be necessary for Canada to rejoin the negotiations and for an agreement to be reached among all parties before a judgement can be made."
"We hope that (the US-Mexico) agreement entices Canada to come back to the bargaining table," Skunes added. "We hope to have a tri-lateral agreement done as a NAFTA 2.0, rather than just a bi-lateral."
Other issues discussed during the press conference were the tariff war with China, and the administration's trade mitigation program designed to help farmers weather the impacts of trade retaliation by other countries.
Listen to it here:
FPS18 Farmers for Free Trade, National Corn Growers press conference