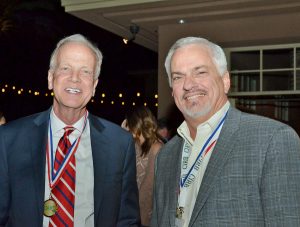 Sen. Jerry Moran (R-KS) was in the neighborhood so he stopped by to say hello at the Crop Insurance and Reinsurance Bureau (CIRB) annual meeting in Scottsdale last week and posed for a photos with members, including chairman Ron Rutledge, Farmers Mutual Hail.
Rutledge says this year is an important one for the crop insurance industry in Congress with a new farm bill being written and they will have to rely more than ever on their champions in Congress like Sen. Moran. "Our theme this year is Meeting the Challenge," said Rutledge in his chairman's address. "I want to take this theme to heart as we head into a farm bill where we know we will be challenged to protect and defend crop insurance as the lynch pin of the farm safety net."
Rutledge was pleased to see new faces at this year's annual meeting because they will need boots on the ground in Washington more than ever. "Crop insurance is a complicated topic and this is a great place for people to get information, to learn and to network," he said.
Listen to Ron's opening remarks and interview below:
Chair Ron Rutledge Welcome Remarks
CIRB18 Ron Rutledge Interview