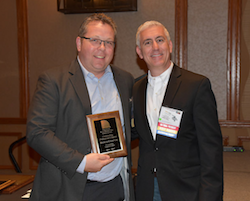 The National Agri-Marketing Association (NAMA) has elected John Rozum, director of ag events for the Association of Equipment Manufacturers (AEM), to the NAMA Executive Committee.
Rozum was elected a vice president of the executive committee and is president of the NAMA Badger chapter who received the Outstanding Professional Chapter Award from the Student NAMA organization during the 2017 Agri-Marketing Conference. He is also past chair of the NAMA Chapter Services Committee, and a member of the organization's conference planning committees.
His work for AEM trade shows and exhibition collaboration includes Commodity Classic, National Farm Machinery Show, CONEXPO-CON/AGG and ICUEE-The Demo Expo, and he is show director for the International Fluid Power Exposition (IFPE).
"John has actively participated in NAMA at the local and national level, known for his energy and enthusiasm, and we welcome him in this new leadership role," said Jenny Pickett, NAMA executive vice president and CEO.
"John is a valuable member of our exhibitions and events team, helping AEM facilitate customer connections, deliver superior customer service and work for the benefit of all industry stakeholders," said AEM President Dennis Slater.
"NAMA offers agribusiness and marketing professionals a wonderful opportunity to learn and network with their peers, and I am honored to be selected," said Rozum.