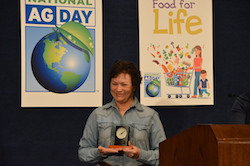 Sue Tebow was the recipient of this year's Charles Eastin Award, presented on National Ag Day. The award honors advocates who communicate between rural and urban audiences; Tebow's Facebook page, agri.CULTURE, certainly does that job. She credits her vantage point as an outsider to the industry with shaping the message that has allowed her to reach thousands of people.
"I realized it is a life; it is not a job," Tebow explains. "So it gave me a very special insight on what people do not know about farming and what they do know."
Her Facebook page features the stories Tebow has captured with her camera– the culture of the hard working men and women. It's the simplicity that makes it the success it is, Tebow says.
Listen to Tebow's message here: Ag Day Eastin Award, Sue Tebow