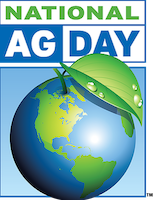 The Agriculture Council of America winners of the 2017 National Ag Day video, written essay, and photo contest winners and the 2017 Charles Eastin Outstanding Service Award will be recognized next week on March 21, the 44th anniversary of National Ag Day, at the National Press Club.
Hadassah McKinley from Bella Vista, California earned the video essay title and the national essay winner is Bridger Gordon from Whitewood, South Dakota. Both will receive $1,000 prize as well as the trip to Washington D.C. and the opportunity to meet with industry representatives and media. Their entries can be viewed online as at https://www.agday.org/2017-contest-winners. Tana Elliott of Etna Green, Indiana, was selected as the winner of the photo contest. The contest theme this year was "Agriculture: Food for Life."
Sue Tebow from Moses Lake, Washington is receiving the 2017 Charles Eastin Outstanding Service Award. The award is given to an individual who advocate accurate communication between rural and urban audiences. Tebow's unique Facebook page, agri.CULTURE showcases her photographs of life on farms and ranches. In less than a year since it's start in April of 2016 Tebow's Facebook page has reach 27,000 people with more than 5,000 followers.
National Ag Day was founded in 1973 to encourage Americans to understand agriculture's role in modern society. For more information about National Ag Day visit www.agday.org.