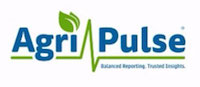 Agri-Pulse.com has received a makeover, from homepage to new landings for topics like the Farm Bill, Energy, and Labor & Immigration.
The new website was created to offer users better support on mobile phones and tablets, in addition to providing more content, says Editor Sara Wyant. "With the growing number of our readers accessing content on mobile devices, we wanted to ensure that our top-quality content worked on a variety of platforms. This new design will enhance the Agri-Pulse brand while enhancing the user experience with more value in a user-friendly environment".
To celebrate the launch, Agri-Pulse is celebrating with unrestricted access to their content for the rest of this week. Next week subscribers will need to login. As always, first-time visitors can receive a free, four-week trial subscription to explore the high-quality content.