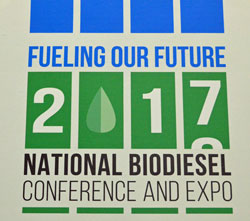 AgWired is on location this week in San Diego for the 14th National Biodiesel Conference, which marks our 12th year blogging for the biodiesel industry.
The Biodiesel Conference Blog is a perfect example of what we do best as a company – gathering photos and audio from an event and making it available online quickly for anyone who might want to use it – attendees, sponsors, media, or just your average Google searcher.
The very first biodiesel conference we attended was also in San Diego back in 2006 and it's really interesting to go back and look through the years – which you can do on the blog because everything is archived there. And there is some great content, like photos and interviews with celebrities like Willie Nelson and Merle Haggard, Daryl Hannah and Larry Hagman, Chuck Leavell and Melissa Etheridge.
Thanks to the National Biodiesel Board for allowing us to bring their conference to you once again this year and you are encouraged to use any content in broadcasts, articles, blogs, Facebook posts, tweets..wherever content is needed!
Here's a sample:
New NBB CEO and Chairman Kick Off #NBB17 –
Rehagen and Engelbrecht, general session NBB CEO Donnell Rehagen meets the press
GM Announces 20 for B20 in Diesel Vehicle Lineup – GM announcement at #NBB17