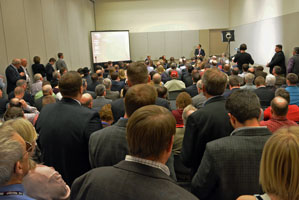 There was a lot of interest in the development of the next farm bill at the American Farm Bureau Federation annual meeting this week in Phoenix. A session on the topic featuring a couple of top agriculture committee staffers was standing room only.
AFBF Senior Director of Congressional Relations Mary Kay Thatcher, who moderated the session, says Congress has a lot of priorities this year that come before work on a 2018 Farm Bill and she expects it will still be tough to pass legislation. "Just because you have a Republican president, Senate and House doesn't mean everything happens easily," she said. "It's still going to require a bi-partisan effort and some negotiating."
Thatcher does expect some progress to be made toward getting feedback to start developing a farm bill. "On the Senate side I think we will have an announcement in the relatively near future that they're going to start listening sessions on the farm bill," she said.
In this interview, Thatcher also talks about the frustration about not having an agriculture secretary nominated yet. Interview with Mary Kay Thatcher, AFBF