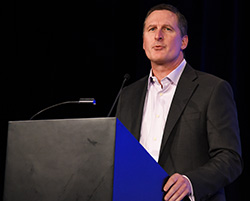 The Potato Board became Potatoes USA in 2016, making it a pivotal year for the industry, according to president and CEO Blair Richardson.
"2016 was a year of transition," said Richardson at the 2017 Potato Expo in San Francisco this week. "We spent the time revamping all of our programs and rebuilding our organizational structure to fit those strategic objectives."
Potatoes USA began launching some of those programs, like the 9th Wonder of the World marketing campaign and chef training programs. "As we move into 2017, we're really excited to see these activities mature and see the results from them," he added.
Learn more about Potatoes USA in this interview: Interview from Potato Expo with Blair Richardson, Potatoes USA
Coverage of the Potato Expo is sponsored by