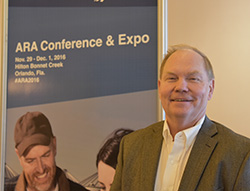 The Agricultural Retailers Association (ARA) is respected throughout the agriculture industry as a support system for growers and retailers, and that support has been a key factor behind Bayer's continued sponsorship of the organization.
"ARA is very important to us as a supplier of products for farmers and growers," says Bayer Strategic Business Lead Al Luke during an interview at ARA's recent annual meeting in Orlando. "ARA's charter is to support the ag retail community, which is the trusted advisor for growers, so that partnership goes a long ways."
Luke noted ARA's outstanding regulatory support and work on the Hill, explaining that both retailers and growers benefit from ARA's efforts to ensure that the regulations and the laws that are passed are beneficial to the industry. "This organization is one of the strongest organization's I've seen in terms of working through Washington, D.C. to help get legislation passed that can be helpful and try to modify legislation that can actually hurt our industry," he said
Luke also highlighted the strength of the training programs offered by the ARA, many of which are held in conjunction with Purdue University. "The ag chemical business is very technical, and it is critical for the industry that our retailers are trained and have a strong understanding of the important safety and environmental implications of these products," said Luke.
Learn more in this interview: Interview with Al Luke, Bayer
View and download photos from the event here: 2016 ARA Conference Photo Album