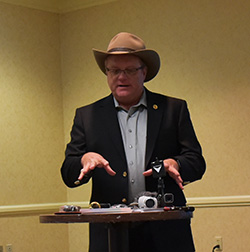 Hello from frigid Kansas City, MO. I am not going to the Chiefs game tonight. No way! But I will be rooting for them.
No, I'm here for a quick stop to visit all my AgChat Foundation peeps and just completed a session on Farm Podcasting during the 2016 Cultivate & Connect Conference. I really wish the @FarmPodcaster could have been here. But she's still covering #ASTACSS in Chicago.
My presentation focused on a broad overview since there are many elements of podcasting that could take a session by themselves. For example, audio or video editing. My slide show is filled with hyperlinks to more information and you can download it here (.pptx). Please follow the hashtag here to get lots of information and viewpoints on AgVocating.
The session room was full but only two people raised their hands when I asked if they produce a podcast. Many more raised their hands to show they have a blog.
Three key takeaways to my presentation are:
Your podcast is about you and your passion.
Regular episodes build expectation
Promote with all the social media tools you have
Of course I can elaborate a lot on these points and there is the whole production (hardware/software), syndication, promotion part but hopefully you'll get interested in "narrowcasting" and make it a valuable mechanism to expand and grow your audience.