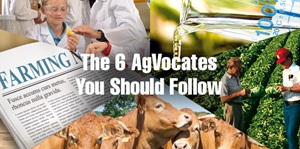 Here's a big shout out and thank you to Casey Allen, Crop Science, a Division of Bayer, External Communications. Casey wrote a very nice article on the Bayer Connect Blog featuring some fantastic agvocates in the social media space. Cindy and I are very humbled to be on the list.

It's no secret that we love #AgVocates. The farmers, bloggers and supporters of agriculture who take the time to spread the word about the importance of our industry, are the true voices of modern agriculture. Truth be told, if it weren't for AgVocates, we couldn't do what we do.
While all AgVocates have a special place in our heart, these are six AgVocates that we think you should start following today. By initiating important conversations about modern ag through their respective fields, these six AgVocates will keep you at the top of your AgVocate game.

Also featured are some good friends including, Jenny Schweigert, Executive Director, AgChat Foundation; Brian Scott, Indiana farmer; Julie Borlaug, associate director for external relations at the Norman Borlaug Institute for International Agriculture at Texas A&M; Ryan Goodman, Business Development Manager for AgriClear and Carolyn O'Neill, a multi-award-winning registered dietitian, speaker, author, food and travel journalist, nutrition consultant, writer and social media communicator. You can find links to follow them on the blog post.