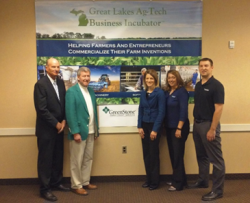 GreenStone Farm Credit Services recently announced that the community and agricultural lender has made a $25,000 contribution to the Great Lakes Ag-Tech Business Incubator, a non-profit organization that focuses on helping farmers and entrepreneurs rapidly commercialize their ag-technology machinery, equipment or software innovations.
The Incubator will utilize the financial contribution by providing business startup services to clients. GreenStone will also offer its expertise to Incubator clients in areas such as financial counseling, lending to qualified clients, and business finance training to clients and ag-tech entrepreneurs.
"For the last century, GreenStone has supported organizations, programs and initiatives dedicated to advancing agriculture. This partnership with the Great Lakes Ag-Tech Business Incubator fits with our commitment to help Michigan ag-technology based businesses get started and become successful," said Dave Armstrong, President and CEO of GreenStone Farm Credit Services.
Farmers, entrepreneurs and business owners who have an ag-technology idea or invention and would like more information about the business services offered by the Incubator can visit their website here. Farmers and industry professionals interested in helping to review and/or test new ag-technologies being developed by Incubator clients should also contact the Incubator team.