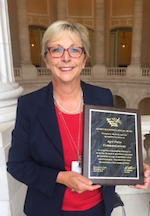 The North American Agricultural Journalists (NAAJ) presented Agri-Pulse with the Audrey Mackiewicz Special Award at the group's annual banquet last week. The award is named after the first woman president and long-time Executive Secretary-Treasurer of NAAJ, and is presented to publications that have expanded their coverage of agriculture. The Agri-Pulse mission is devoted to covering agriculture, food and rural issues on Capitol Hill, and their staff of 11 editors and broadcast journalists is now the largest agriculture news bureau in Washington D.C.
Over the last year, circulation grew to a record 5,200 Ag and Rural policy influencers, and Agri-pulse expanded its reach to more than 1,200 congressional staffers in every Senate and House office on Capitol Hill and most major committees impacting agriculture and rural America.
More than 1,700 students at 33 Universities currently use Agri-Pulse as their classroom curriculum in Ag Economics and Policy studies.
The Agri-Pulse website averages 180,000 visitors, is currently generating 900,000 page views per month, with about 14 minutes per user session on site, and has over 20,000 followers on Twitter.