Members of the National Association of Wheat Growers (NAWG) were in Washington DC last week for their annual winter conference and during that time presented awards to friends in Congress.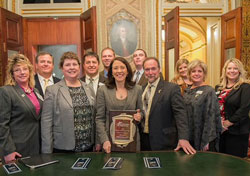 Senator Maria Cantwell (D-WA) was presented with the 2015 Wheat Leader of the Year by the NAWG board of directors, including Washington farmer and NAWG president Brett Blankenship.
"Senator Cantwell has been one of wheat's strongest allies during the last year. We sincerely appreciate all the work she has done on behalf of wheat growers, both in the state of Washington, and all across the nation," said Blankenship. "We are grateful for her efforts in progressing tax and trade legislation, especially supporting Trade Promotion Authority and in defending crop insurance."
"America is producing some of the best wheat in the world thanks to our growers and their families – many of whom are in Washington State. I've been proud to fight for continued federal investments in cutting edge research and will continue to ensure our growers have the support they need to compete and win in the global economy. I'm very honored to receive this award," said Senator Cantwell.
Also honored by NAWG were Senate Agriculture Committee Chair Pat Roberts (R-KS) and key members of his staff. Chairman Roberts received the "Wheat Advocate" award given annually to members of Congress who have demonstrated support for the wheat industry above and beyond the norm. Members of his staff received the "Friend of Wheat" award given annually to congressional staff who demonstrated support for the wheat industry above and beyond the norm. Those staffers included Wayne Stoskopf, Will Stafford, James Glueck and Andrew Vlasaty.
"I am honored to be recognized for our efforts on behalf of wheat growers," said Roberts. "I look forward to another year with our sleeves rolled up, putting the farmer and rancher first."