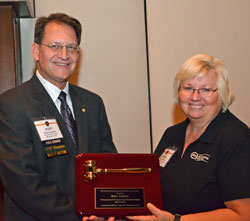 It was out with the old and in with the new president for the American Agricultural Editors' Association at the Ag Media Summit last week. Kurt Lawton, Corn and Soybean Digest editor, retired his gavel and Elaine Shein, Associate managing editor for DTN/The Progressive Farmer, picked it up.
"It's been an amazing year," said Lawton. "We set out to really look hard at improving the association, as we do every year. We've taken on a lot of new things from youth leadership to increasing membership to so many new programs."
AAEA membership increased for the tenth year in a row and Shein hopes to keep that ball rolling. "We're at 475 now and we are hoping to increase that to 500 by 2020," Shein said. That year is significant because it will be the 100th anniversary of the organization and plans for that celebration will be really taking off in the year ahead. "You can't wait until 2019 to work on that," she said.
Listen to my interview with Kurt and Elaine here: Interview with outgoing and incoming AAEA presidents
2015 AAEA Business Meeting and Awards