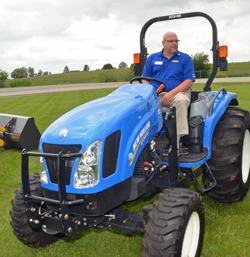 Pro Work Tools is a good name for the New Holland team that deals with utility and compact tractors. During New Holland media days Todd DeBock walked us through what makes them so much in demand. In fact, orders for Workmaster compact tractors through dealers have come in so strong they've sold out into 2016! Todd says the first thing you'll notice is that these tractors have been designed with the new styling of all New Holland tractors. There are a lot of features on these new models that Todd says you won't find on most utility tractors.

New Holland salutes a generation of doers by introducing a new line of tractors with a familiar name – WORKMASTER™. Popular in the 1960s, the original WORKMASTER models were known for their dependability and value. Today, it's no different. Whether you're mowing, moving, baling or loading, new WORKMASTER tractors work hard, are easy to afford, and at the end of the day, deliver the satisfaction of a job well done.
The WORKMASTER™ 50, 60 and 70 (53 – 70 gross horsepower) utility tractors boast a new look, new Tier 4B FPT common rail engines and new 600TL Series front-end loaders.

Watch Todd give us an in-the-field tour of new Workmasters.