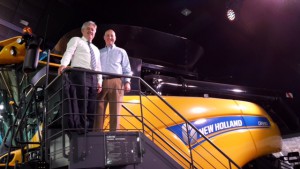 CNH Industrial welcomed Nebraska Governor Pete Ricketts this week at the Expo Milano "Sustainable Farm Pavilion" sponsored by its agricultural machinery brand New Holland Agriculture.
The governor was accompanied by a delegation that met with CNH Industrial management to discuss activities and investment in Nebraska through its manufacturing facility and commercial network. The Governor is on his first trade mission being coordinated jointly by the Nebraska Departments of Agriculture and Economic Development, which is stopping in Italy, Belgium, and Denmark this week.
Economic development, sustainable agriculture, youth technical training, local manufacturing and the
use of biofuels were the main topics of discussion surrounding the governor's visit to the pavilion and in his meetings with New Holland Agriculture Brand President Carlo Lambro, pictured here with Ricketts.
Unfortunately, Rickett's visit to the pavilion came two days before a group of journalists from around the world, including our own @Agriblogger, made their own visit with New Holland. They have been touring the Expo all day today, in Italy time. Chuck says the internet access is not good enough to post photos, but he will be getting to that when he can.
*UPDATED with audio*
The governor held a telephone press conference with reporters on Friday where he talked about the trade mission. Joining him was Nebraska Farm Bureau president Steve Nelson.
Neb. Gov Pete Ricketts and FB pres Steve Nelson in Europe