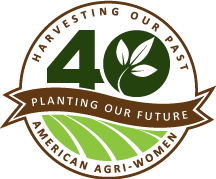 American Agri-Women raise an interesting question; who owns Nevada?  This example is one of the issues the nation's largest coalition of farm, ranch and agribusiness women is posing at their 22nd annual Symposium.  Held at the USDA building in Washington D.C., the event is scheduled for June 8th from 9-11 a.m.
The symposium, "Divided Lands: Federal vs. State Management in the West," will feature a panel discussion regarding federal land management as opposed to states managing their own lands. Panelists will examine the differences of federal land ownership in the West as compared to Eastern states and the consequences of that control. For instance, the federal government owns 85% of Nevada.
The annual symposium is a free public forum that presents rural issues to consumers and policy makers. It is one of the featured events of American Agri-Women's annual Fly-In, set for June 7-10. AAW is celebrating 40 years of advocating for agriculture.
"The issue of too much or too little federal lands is one that is being currently debated on both sides of the Mississippi River," says Karen Yost, AAW symposium chair. "While Eastern states have little federal lands within their boundaries, the cost output of managing public lands in the Western states affects the fiscal budget for all states. This panel discussion will be an opportunity to learn from several viewpoints."
Speakers include: Ken Ivory, Utah House of Representatives, Will Coggin, director of research, Environmental Policy Alliance, and Harriet Hageman, managing partner of Hageman Law.
For updates about the Fly-In, follow on Facebook at www.Facebook.com/AgriWomen.