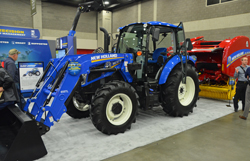 Tractors are one of the hottest items for attendees to check out when visiting the National Farm Machinery Show (NFMS) and New Holland Agriculture has a few for customers to choose from.
New Holland's T4 Series tractors have set a new standard for performance and efficiency in a utility tractor. These tractors are now powered by clean-burning Tier 4B engines which improve fuel efficiency and generate greater torque and power to handle tough on the farm jobs. Features include: deluxe VisionView™ cab, ergonomic CommandArc™ console and Dual Command™ transmission.
While at NFMS, Chuck chatted with Alex Booms who is the Marketing Specialist in the Dairy & Livestock Customer Segment for New Holland.
"Our core market is dairy and livestock producers who are our hay and forage customers. The fact that they don't have to mess with a diesel particulate filter (DPF) or have to go into that regeneration process and can keep working is key. Time is money. It's a great all-around tractor, great haying tractor, great choring tractor. Versatile in a lot of different ways."
Learn more about New Holland's T4 series tractors in Chuck's complete interview with Alex here: Interview with Alex Booms, New Holland