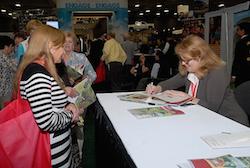 The American Farm Bureau Foundation for Agriculture presented its eighth annual "Book of the Year" award to Margaret McNamara for "The Apple Orchard Riddle." In this playful and humorous story, the students learn a lot about apples and apple orchards – including how apples are harvested, how cider is made, and what the different varieties of apples are – while trying to solve a riddle.
New York City-based Margaret McNamara is a former children's book editor who now works as a literary agent, when she's not writing. She has written some 40 books for children, and will publish her first novel for adults, "Enchanted August," this summer.
"I could not be more thrilled that 'The Apple Orchard Riddle' was chosen as the American Farm Bureau Foundation for Agriculture's Book of the Year," said McNamara. "When I was growing up, there was a very crooked, very old apple tree in our backyard. It produced the most delicious green cooking apples. I baked many a pie and cake and crumble with those apples."
She continued, "When I got older, my stepdaughter was diagnosed with dyslexia. Her struggle with reading has always been coupled with an uncanny ability to see things differently and to solve problems in a very visual way. I wrote 'The Apple Orchard Riddle' in memory of that old apple tree, and to celebrate my stepdaughter, Emma."
The Book of the Year award springs from the Foundation's efforts to identify "accurate ag books," a collection of more than 400 books for children, teenagers and adults that accurately cover agricultural topics. Book of the Year selections are educational, help to create positive public perceptions about agriculture, inspire readers to learn more and touch their readers' lives as well as tell the farmer's story. The Accurate Ag Books database is available at: www.agfoundation.org.
The Foundation has created an educator's guide and has revised its Apple Ag Mag publication as companion pieces to "The Apple Orchard Riddle." Again this year, the Foundation is offering a Spanish text version of the Apple Ag Mag.
In honor of McNamara's recognition and the host city of the American Farm Bureau Federation's 2015 Annual Convention, the Foundation donated 100 copies of "The Apple Orchard Riddle" to the San Diego Public Library, along with $1,000.