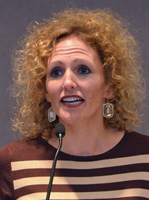 Earlier this month, we told you about the U.S. Farmers & Ranchers Alliance (USFRA®) announcing the winners of its second class of the Faces of Farming and Ranching program. Now, we'd like you to meet each of the five selectees, starting with Carla Wardin of Michigan, who along with her husband Kris, both sixth-generation farmers, are the sole owners of Evergreen Dairy.
"I am so thrilled and so honored to be selected, because I really love the chance to represent the industry," she told our Taylor Truckey during an interview. "I'm really looking forward to having meaningful conversations with consumers on the national level."
Carla's path to this latest position to help shift conversations about food production and set the record straight about how farmers feed the nation came through social media. Beginning with tours of the family dairy farms, she expanded who could hear the story when she launched her own blog, "Truth or Dairy," also promoting it on Facebook, Twitter, Instagram and YouTube.
"I really love being able to share, and I really love that people want to read about a dairy farm in the Midwest," she said.
Carla admitted that while having friends online (and some of those ONLY online) might seem a little different than traditional friendships, she believes they can still make some great connections and relationships.
Moving forward, Carla will be part of USFRA's Food Dialogues program held in different cities where many stakeholders are invited to the conversation.
You can follow Carla here:
Truth or Dairy Blog
Carla's Facebook page
Evergreen Dairy Facebook page
Twitter
Carla's Farm Video
Listen to all of Taylor's interview with Carla here: New USFRA Faces of Farming and Ranching - Carla Wardin