Dave Pesiri is the director of the Feynman Center for Innovation. He defines innovation as taking a new technology of idea into a new market. Los Alamos National Laboratory is a place where a lot of new technologies emerge, and the Center dedicates much of its time to working with others to deploy the technology from the pages of a notebook to the hands of consumers.
One such profitable "innovative" relationship as been LANL with Verdesian Life Sciences. Dating back to the 1990s work from the lab, with the help of Verdesian, was transformed into a unique and highly successful product called Take-Off. The foundation of the nitrogen enhancing product is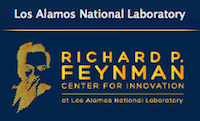 various formulas that allow it to be used by growers simultaneously with other products such as fertilizers or herbicides – there is no other product on the market. Today, the research teams continue to work together to improve the product and in the next few weeks, Take-Off next generation will be released.
"Innovation I believe is going to be critical in how we are going to need to meet the needs of the country," said Pesiri. "The need for continual innovation has changed how we think." Today, innovation has become a core ethic of how they met the lab's mission.
Pesiri noted that how the Center innovates must be more effective because the pace and complex threats from adversaries is evolving much faster then the lab. "As a lab, if we are not working with the best in the private sector then we will have a problem with relevancy going forward."
The lab does face some challenges when it comes to research. For example, Perisi said they can only budget one year in advance and this makes long-term R&D funding challenging at times. "But what we're finding is that the ability to leverage the best of industry in a lot of sectors," said Perisi. We need to understand how to use private companies understanding of markets and then leverage this knowledge so we can get smart and then figure out how to put stuff in place to be a better partners."
They have put this into action and run a small accelerator program for small businesses in New Mexico. To date, they have deployed $2.5 m in funding and seen a $50 million return on investment. The goal of the program is to help businesses focus on technical funding and today that have positively impacted every county in New Mexico.
Perisi said they lab is committed and looking forward to extending its relationship with Verdeisan. They have been a great partner and serve as a strong example of how they would like other private partnerships to evolve.
To learn more about the Feynman Center for Innovation, listen to Dave Perisi's remarks: Remarks from Dave Perisi, Feynman Center for Innovation
View the 2014 Verdesian Los Alamos Media Tour photo album. *Note: due to national security concerns, the media tour participants were not allowed to take photos in the lab on on the lab's premises.