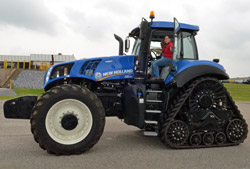 Today New Holland announces a very unique tractor with rear tracks and front wheels. It's the T8 SmartTrax. The media got a preview of the new machine which will be on the Farm Progress Show lot this week. Telling us all about it is Nathan Graham, T8, T9 and PLM Product Trainer. Here is some information about the new product.
Optimized flotation and traction with minimized soil disturbance
Purpose-developed high clearance, high-torque front and rear axles
Up to seven different working widths
Choice of Auto Command™ or Power Command™ full powershift transmission
Revised fuel tank and cab steps for easy cab access

With its all-new SmartTrax™ system, New Holland matches the overall versatility of a wheeled tractor with the high traction and flotation of rubber tracks. Although based on the established T8 Series, SmartTrax tractors have detail design differences. These include purpose-developed high torque axles that match large-diameter front wheels with the rear tracks. This enables full power to be delivered between the front wheels and rear tracks for optimum performance.
"SmartTrax T8 Series tractors have been developed to deliver the proven versatility of a wheeled tractor with the enhanced traction and flotation of rubber tracks," says Dan Valen, Cash Crop Marketing Segment Leader. "The rubber tracks are matched to large diameter front wheels to deliver excellent maneuverability and to overcome some of the issues that may arise with conventional twin tracked vehicles. A key feature of SmartTrax is the ability to turn tightly and cleanly at the headland. This improves versatility as the tractor is also suitable for top work, such as spraying and top dressing."

Learn more about the new T8 SmartTrax in this video from my ZimmGlass. I'll have another one to publish this week riding along with Nathan.