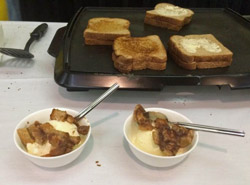 Hello from Panama City Beach, FL. This is the location of the Southern Peanut Growers Conference. Cindy and I are on the scene.
Things started out as usual with Mr. Peanut, Tyron Spearman, grilling PBJ's (with grape jelly). There was also a make your own ice cream sundae bar. According to Mr. Peanut, a young man told him that the grilled PBJ's were very good dipped in melted ice cream. Hmm. Sounds like it's time for grilled PBJ toppings for vanilla ice cream. Cindy and I had 'em and they are awesome.
Over the next couple days we'll be SPGC blogging. This is our 7th year! Whoo Hoo! Thank you Southern Peanut Farmers Federation (FL/GA/AL/MS)! Follow along on the SPGC Blog. BTW, the conference Twitter hashtag is #2014SPGC.
Here is where you can find photos: 2014 Southern Peanut Grower Conference Photo Album