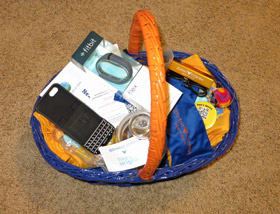 If you're going to the Agricultural Media Summit keep your physical fitness in mind. A public service message from ZimmComm.
Actually, we have donated a ZimmComm basket to the Ag Relations Council/Ag Media Summit Silent Auction. The items can be seen online now. Our basket contains:
Fitbit Flex
Typo Keyboard for iPhone 5/5S (I have used it – in mint condition) – still have your Blackberry but want an iPhone?
3 ZimmComm "Celebrating Ten Golden Years" t-shirts (M, L, XL)
@ZimmComm Tweets Uright candy jar filled with healthy candy
2 ZimmComm eyeglass holders
Golden ZimmComm power bank
Golden ZimmComm mobile stylus
Assorted other ZimmComm goodies
Bid often and bid high. All proceeds benefit youth programs by ARC and AMS.
If you can find me at the AMS All Star Sports Famous Welcome Party on Sunday evening I might have a ZimmComm swag bag item to share. See you there.
AgWired's coverage of this year's Ag Media Summit is being sponsored by FMC and New Holland. Thank them, Thank them very much!