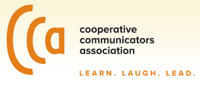 Want to see who the winners are in this year's Cooperative Communicators Association Communications Contest? Here's where you can see the best writing, publication, photography and more.

Welcome to the 2014 Winners Showcase
This showcase features all of the winning entries in this year's CCA Communications Contest. Here you'll find the best of the best of cooperative communications, from writing and photography to publications, programs, and projects. Below are links to PDFs of the lists of winners in each division. These lists are available to members and nonmembers alike.
Writing Winners
Publication Winners
Photography Winners
Programs and Projects