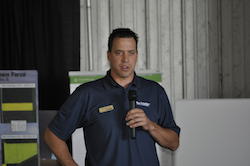 Ag Leader Technology is out in the fields this summer bringing the latest precision technology to Illinois farms in the Technology Meets Dirt Road Tour. There have been two events so far but there are still three more scheduled in the next couple of weeks where you can learn how the latest technology can help you manage seed, fertilizer, water and data.
I had the chance to attend Wednesday's event outside of Peoria and was impressed with the discussions, programs and field demos. The Ag Leader specialists put a lot of emphasis on answering farmers' questions and getting them involved, not just talking at them.
Michael Vos, dealer development manager for Ag Leader Technology, encourages growers to come out and get their hands on the equipment during the field demonstrations after they hear some about it from the experts. "The Technology Meets Dirt Road Tour is all about educating and demonstrating," Michael says. "We're taking the tile plow, the OptRx sensors on Hagi sprayers, the Seed Command products with Hydraulic Down Force clutches out into the field and demonstrating them." Interview with Michael Vos, AgLeader Technology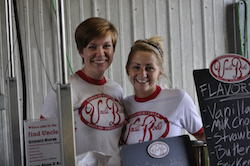 All that and, did I mention they even had Uncle Bob's ice cream for us as a treat? That was certainly a highlight for me and very much appreciated during the beautiful but hot day!
Find out more about the tour at TechMeetsDirt.com – the upcoming dates are listed below. If it's not your part of the country, or if you can't make it, don't worry. I'll have posts about what I learned coming up here and on our sister site Precision.AgWired.com.
June 27th – Route 24 East, Mt. Sterling Illinois 62353
July 8th – 10-98 Industrial Park Rd Benton, IL 62812
July 10th – 1368 County Rd 11 Thomasboro, IL 61878