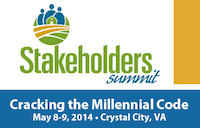 Growing weary of the buzzword bonanza and juxtaposition of jargon, the Animal Agriculture Alliance announced today an interactive panel at Summit that will tackle the myths surrounding "big agriculture." At the Alliance's 13th annual Stakeholders Summit, themed "Cracking the Millennial Code," panelists from Monsanto, Ray-Lin Dairy, Zweber Farms and the Illinois Farm Bureau (ILFB) will discuss how agriculture can move past negative name-calling and drill down to the heart of agriculture: farming.
"For too long we've sat idle and let others—who don't grow crops or raise animals—sling barbs and try and drive a wedge between farmers and consumers by using catch phrases like 'factory farm' or 'big ag'," said Alliance President and CEO Kay Johnson Smith of the Summit, to be held May 8-9, 2014 in Crystal City, VA. "We've gathered panelists with unique perspectives, who can help us move past school-yard-type bullying—both inside and out of agriculture—and determine how we support each others' production choices while positively advocating for all of ag."
Panelists will include two dairy farmers: Emily Zweber (Zweber Farms) and Ray Prock (Ray-Lin Dairy). Zweber and her husband are raising their three young children on their fifth generation organic dairy farm, while Prock is a 2nd generation dairy farmer from Denair, CA where he and his family milk 550 cows. Both Zweber and Prock are actively involved in sharing their families' stories on social media; Zweber serves as the Executive Director of the AgChat Foundation, while Prock is a member of the National Dairy Promotion and Research Board and the Dairy Management Inc. Board of Directors.
Janice Person (Monsanto) and Tamara Nelson (ILFB) will round out the panel. Nelson, who currently serves as the Senior Director of Commodities for the Illinois Farm Bureau, will provide attendees with insights from the ILFB's recent media tour of farms in the United Kingdom—and the U.K.'s perspective on farm size, best practices and sustainability. Having grown up a city girl, Person became involved in agriculture through cotton and still carries a passion for it. Person is now a member of Monsanto's corporate engagement team doing outreach both within agriculture and broadly with society.
All four panelists will help answer the tough questions about "big ag" versus "family farm" and how farm size impacts animal care and public perception.
To learn more about these, and other Stakeholders Summit presenters and panelists, be sure to visit the Alliance website. Early registration for the Alliance's Stakeholders Summit ends April 8th, 2014—so register today to take advantage of discounted rate.