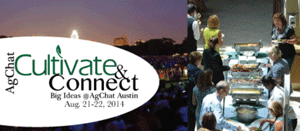 Calling all aspiring agvocates. The 2014 AgChat Foundation, Cultivate and Connect Conference will be held in Austin, TX, on August 21-22.
It has been said that everything is bigger in Texas. The AgChat Foundation's 2014 Cultivate & Connect conference to be held at the Radisson Hotel & Suites in beautiful downtown Austin, Texas, August 21-22, 2014, will be no exception. For the first time, our annual conference will include an open registration process which does not require participants to complete an application and receive an invitation to attend. Additionally, there will be no limit on the number of alumni attendees nor a limit on non-farmers and non-ranchers. It will be the best and biggest AgChat conference to date.
Who should attend?
Cultivate & Connect is open to all farmers, ranchers, growers, agribusiness people and agriculture educators from all walks of agriculture. Large, small, organic, conventional, urban, hobby? You are all invited to attend.
Why should you attend?
Expansive networking within the AgChat community
Connect with leading experts and your peers
Learn and share innovative and cutting edge ideas
The best of the best in Ag speakers
Cultivate & Connect brings together the latest in technology and the farmers and ranchers who are using it
An experience you will never forget

Keynote: Thom Singer is our conference catalyst. Delivering impactful content with high energy.
Thom Singer is an engaging speaker who will cause you to explore creative ways to make, grow and keep your business relationships. Thom debunks the myths of networking and delivers actions items for success.
Sessions Include
What Chefs and Moms Really Say About the Food You are Growing
Does Community Engagement Work Offline and Why You Should Care
What is "Social Media Voice" and How Do You Find Yours?
Too little Time, Too Many Activities. Help Me!
Can You Build Your Community To Help Create Action?
5 Questions You Need To Learn To Answer About Being A Farmer, Dealing With The Questions
Photo Walk About To Get The Pictures You Want
Pitch Your Session
The AgChat Foundation is calling for session proposals with the theme: "How Do You Empower, Connect, and Use Social Media Platforms?". Share your story around one of the following focus points:
Innovation
Engagement
Community Building
Evaluation & Effectiveness