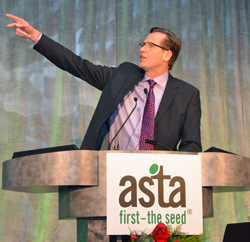 Once again this year at the ASTA CSS 2013, for the third year in a row now, AgResource Company president Dan Basse looked at the year in review for grain markets and gave his outlook for the future.
While there are bright spots, Dan's overall outlook for the year ahead is pretty sobering, saying the good times may have come to an end for corn. "A year ago we had corn prices above $7 with flirtations to eight," he said. "We're now looking at Chicago markets with corn prices near four. We think the best we can do at least for the next 6-9 months is maybe getting back to something like four and a half."
Basse points out that the United States only needs to produce a corn crop of 13 billion bushels to meet demand. "That's the big concern for the US farmer down the road," he said.
On kind of a bright side, Dan expects North America to be "energy self-sufficient by 2020" but that is largely due to fracking to reach new deposits of crude oil and natural gas rather than biofuels. "Ethanol, which was deemed to be the savior from Mideast oil, is no longer going to have that spot at the table," he said, adding that the industry has "reached its zenith."
Basse covered a number of important topics in his presentation, including whether the bull market in ag commodities is coming to an end, the mature biofuels industry, pressure on farmers to plant less corn, the high cost of production for U.S. farmers, and – of course – the farm bill.
Listen to my interview for the condensed version and his 30 minute presentation for more details:
Interview with Dan Basse, AgResource ASTA CSS presentation by Dan Basse, AgResource