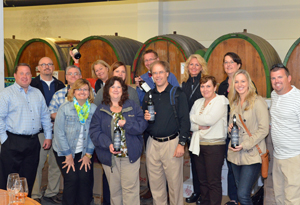 Gutan Tag from BASF headquarters in Ludwigshafen, Germany!
BASF rotates media events for agricultural journalists between the United States and Germany – with the odd years being for European media with a small group from the U.S.
Organized by the incomparable Pat Morrow, the event is always first class and often includes a visit to the equally incomparable BASF Weinkeller (wine cellar). This wine connoisseur's heaven features four floors with a MILLION bottles – some true collectors items that are even older than the cellar itself, which was founded by BASF in 1901. While the wine cellar includes over 1,000 vintages from all over the world, they are most proud of those from Germany.
Sommelier Bernhard Wolff was the guide for our tour, which began with a locally produced "best sparkling Pinot Noir of Planet Earth," and concluded with a 1933 Chateau Mosse Rivesaltes from France. Enjoy some of Bernhard's welcome in the video below and check out the photos in the 2013 BASF Germany album.