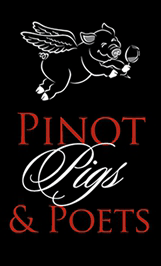 The Nebraska Pork Producers Association is excited about expanding their continued sponsorship of this year's Pinot, Pigs & Poets event at Happy Hollow Club on June 6, 2013 at 6 p.m. The philanthropic event will feature premium Pinot Noir wines, cutting-edge pork dishes and entertainment provided by slam poets from the Nebraska Writers Collective.
The Nebraska Pork Producers Association has been a sponsor of Pinot, Pigs & Poets since the event's inception in 2010. In 2013, they are enhancing their sponsorship by involving the Taste of Elegance competition. The top chef will win a trip to the 2014 Pork Summit at the Greystone Campus of the Culinary Institute of America in St. Helena, California.
All proceeds from Pinot, Pigs & Poets support the Completely KIDS organization and their weekend and after-school food programs for Omaha children in need at local schools and shelters. Completely KIDS serves over 2,000 children in its after-school programs and provides over 30,000 meals a year. Last year Pinot, Pigs & Poets raised over $140,000 for these programs.