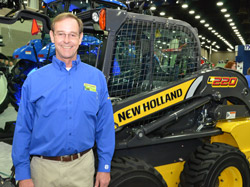 New Holland recently announced that it was folding its construction group back into the ag side of the house, so the recent National Farm Machinery Show seemed like the perfect venue for the company to show off some of their equipment capable of filling both roles.
"We have a lot of farmers who have construction equipment, and there's a lot of contractors who have farms, so it's a good mix," explained Barry Newton with New Holland's construction group. He said this show was the perfect chance to show off their new model 220 skid steer loader. "It will lift 2,200 pounds straight up in the air and walk around with it," adding it has 68 hp and the quietest cab in the industry.
Barry said they saw lots of folks who have had many skid steers over the years and were really interested in this latest model.
You can listen to Chuck's interview with Barry here: Interview with Barry Newton
2013 National Farm Machinery Show Photo Album

Coverage of the National Farm Machinery Show is sponsored by
FMC
and
New Holland Agriculture