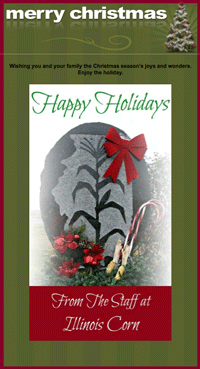 Let's have an end of the week Merry Christmas and Happy Holidays from the Illinois Corn Growers.

Wishing you and your family the Christmas season's joys and wonders.
Enjoy the holiday.
Happy Holidays from the staff at Illinois Corn.

Wish I could share all the holiday message we've received. Keep 'em coming though. Plenty of time left and I'll do my best to share yours here if you'd like.