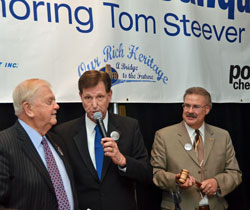 The NAFB president's banquet Friday night honored Tom Steever of Brownfield Ag News who received toasts and more than a few little roasts for his distinguished career as a farm broadcaster and officer for the National Association of Farm Broadcasting.
A hoarse Orion Samuelson emceed the dinner, which provided lots of laughs in itself, such as a quip that he was doing a great imitation of Max Armstrong. Orion hired Tom many moons ago as an anchor for the quickly defunct Channel Earth, a 10 month episode of Tom's life that was the butt of several jokes during the evening, but to which Tom himself noted "he would do it all again" even knowing how it would end.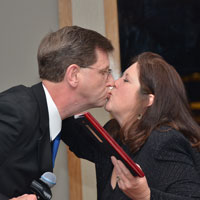 Brownfield's entire staff of ten broadcasters was there for the banquet and it is worth noting that while this Missouri-based farm network is the biggest and one of the nation's oldest, this is the first time a Brownfielder has served as president of NAFB. His boss Cyndi Young, pictured here getting a buss from Tom, could hardly contain her pride and praise for him. She had almost nothing but good things to say about Tom, unlike his first boss who hired him at KSOO and related a couple of classic stories to prove what a "dork" Tom was and still is.
To make up for Cyndi's flowing praise, and in honor of Tom's love of music, her husband Jim Puyear composed and performed a tribute to Tom at the dinner, complete with plenty of wise cracks about those in attendance and some not. Just a warning – it does contain a few blue words just to make Tom blush!
2012 NAFB Convention Photo Album