Rising prices in the ag sector are prompting a lot of companies to look at investing in those areas. But since these companies might not know that sector, they're going to need good farm managers and appraisers to make sure their investment is well spent. At the recent 83rd Annual Meeting and Trade Show of the American Society of Farm Managers and Rural Appraisers and AgroNomics Conference & Trade Show held in Indianapolis, Ind. attendees were able to hear exactly what that might mean for their fields.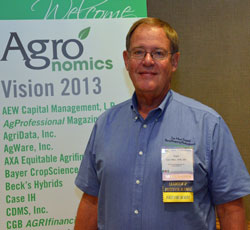 "Those companies [looking to invest in farmland] are looking for good farm management talent to do the due diligence on those properties, see if they're worth acquiring and at what level, which may lead into the management and appraisal of that asset," explained Gary Thien, AFM, owner of Thien Farm Management in Council Bluffs, Iowa. And he says it's why an organization such as ASFMRA and conferences like these are important. "It's always a leading-edge conference, and you always come home with something afterwards."
Listen to Chuck's interview with Gary here: Interview with Gary Thien, AFM
AgWired coverage of the ASFMRA Agronomics Conference is sponsored by Halderman Farm Management.