The recent 83rd Annual Meeting and Trade Show of the American Society of Farm Managers and Rural Appraisers and AgroNomics Conference & Trade Show held in Indianapolis, Ind. saw the election of the group's new president. Paul Joerger, AFM, grew up on a dairy farm in Minnesota and now is the Director of Asset Management and a vice president with John Hancock in Boston. He said he is honored and looking forward to serving the members of ASFMRA.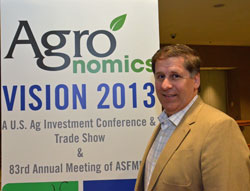 "There's a lot of help around here… a lot of talent, and I think we have a lot of things to accomplish," he said. Joerger added that, as with any organization, keeping and maintaining membership is a key to success. "We have some infrastructure that we need to develop to better allow us to mine and manage our membership. If 10 people took one class last year, and this next class would be a good fit for them, it's easy to send an email to the folks saying, 'Hey, please consider this.'"
Joerger is also a big advocate of the Farm Managers and Rural Appraisers accreditation program and what it means to practitioners of their craft. "It's recognition in the marketplace that those who have taken accreditation have taken time and effort to try to be one step above our commitment to our profession. It also puts us at a higher level of accountability and that we're ready to accept and to share." He said that once he received his accreditation, he found even more satisfaction by teaching others.
Listen to Chuck's interview with Paul here: Interview with Paul Joerger, AFM, new president of ASFMRA
AgWired coverage of the ASFMRA Agronomics Conference is sponsored by Halderman Farm Management.